Table of Contents
We welcome you to stop by our office to learn more about the Individualized Major Program. For advising appointments, please e-mail or call ahead to schedule.
Email, Phone, and Fax
Email: imp@indiana.edu
Phone: (812) 855-9588
Fax: (812) 856-2015
Top of page
Location and Hours
The IMP main office is located in Lindley 201D. When exiting the elevator on the second floor, we are in the suite of rooms directly to your right. If you need help finding Lindley Hall, see the map below, or use the interactive campus map. For additional assistance, please call or email the main office.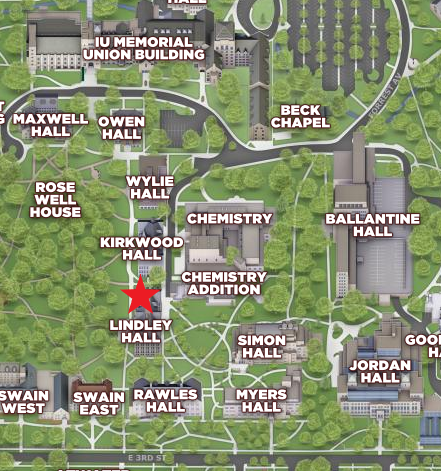 Nearby parking options include the Atwater Garage and the pay lots at the Indiana Memorial Union.
Visitor parking information is available here.
The office is typically staffed Monday - Friday 8am - 12pm and 1pm - 5pm. Appointments are recommended. Before visiting, please call and confirm availability if possible. Masks and social distancing are required.
Top of page
Mailing Address
Individualized Major Program
Indiana University
Lindley Hall 201D
150 S. Woodlawn Ave.
Bloomington, IN 47405-7103
Top of page
Staff
Nick Williams, Director
Nick Williams became the director of the Individualized Major Program in fall 2010. Nick is an associate professor of English who specializes in British Romanticism, especially the poetry of William Blake. He has been on the IMP's Faculty Committee for over a decade and has served on the IMP Advisory Committee. The imaginative breadth of IMP students and their willingness to strike out into new areas has been his main inspiration for working with the program.
Nick consults with students in the initial stages of deciding whether their proposed course of study coheres and also helps students think of faculty whom they might want to approach as sponsors. He convenes the Advisory Committee in its consideration of the overall direction of the program and serves as a committee member for many admission interviews and final project reviews.
Paul Aarstad, Assistant Director
Paul Aarstad has been the IMP's assistant director since spring 2003. His previous experience includes stints advising for the College of Arts and Sciences and the Kelley School of Business. As assistant director, Paul talks with students about their interests and how the IMP can help. He also works with faculty sponsors and committee members, and consults with the director on procedural and policy issues.
Paul enjoys helping students discover ways their college education can be tailored to suit their abilities, goals, and passions. He welcomes inquiries about the IMP from students at every stage of the exploratory process.
Maria Latham, Student Services Coordinator
Maria Latham has worked for IMP since fall of 2019. She manages the IMP email account, website, and daily office operations. Reach out to her any time with questions about paperwork, scheduling appointments, financial aid disbursement, deadlines -- etc!
Top of page