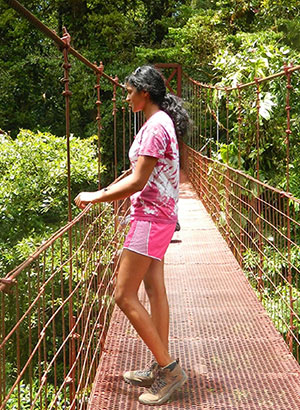 Courtesy photo
Deepti Bansal is passionate about sustainable business. "I know it seems counterintuitive," she says, "but I thought that by going into business, I could try to change the business world and turn it into something where the only purpose isn't to serve profit, but also to serve life."
Through her individualized minor in Business and the Environment, Deepti applied the skills she developed as a business economics major in IU's Kelley School of Business to hands-on sustainability efforts in the cloud forests of Costa Rica. She took courses in conservation biology and policy, community ecology, and business ethics, and was a marketing intern for a small tailoring business. By learning the science behind sustainability, Deepti gained an understanding of how business practices can support environmental goals.
Following her internship experience, Deepti formed the company Punctata Accessories, which sells scarves and headbands made in Costa Rica from 100% recycled materials. The company provides jobs for people in Costa Rica at fair wages, and all profits are donated to local reforestation efforts.
Deepti was nominated to represent Indiana University in Glamour magazine's "Top 10 College Women of the Year" competition due to her leadership with Punctata Accessories and on the IU campus. After a stint in the business world as a consultant for PwC, Deepti now studies at The George Washington University Law School and writes environmental pieces as a student correspondent for Planet Forward. Her piece — 'Nature's small but mighty fix for algae blooms' — earned her a spot as a finalist in the Storyfest 2019 competition.
Related stories:
IU student combines passions for sustainability, business
Indiana Daily Student, December 10, 2015
Video: Class of 2016 Senior Spotlights: Deepti Bansal
Top of page