Jenny Huang, BS'17, BA'17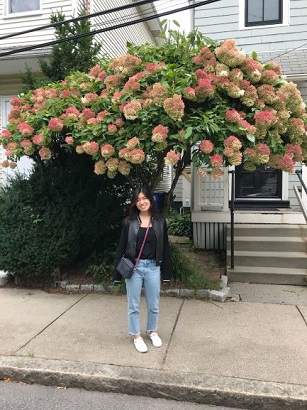 Courtesy photo
Jenny Huang, in the words of IU President Michael McRobbie, is "a rare and refreshingly different kind of student, a pure thinker who defined herself in terms of her intellectual interests -- in her words, 'the fledgling questions that I want to answer' -- rather than in terms of a particular profession or academic field."
That intellectual curiosity served Jenny well when designing her individualized major in Social and Cultural Analysis, which she earned alongside a BS in Mathematics in fall 2017.
Jenny came to IU as a Wells Scholar from Granger, Indiana and later interned in the office of President McRobbie, where she prepared a strategic plan for the digitization and preservation of the university's teaching and research collections. She received the Individualized Major Program's Richard D. Young Award along with departmental honors for her IMP final project "Stewardship of Iceland's Renewable Energy Resources." Jenny's other distinctions include the 2017 Stahr Senior Recognition Award, the 2017 Myrtle Armstrong Best Undergraduate Fiction Award, the 2016 and 2017 Marie S. Wilcox Prize in Mathematics, and membership in Phi Beta Kappa.
After graduating in fall 2017, Jenny worked in the office of South Bend Mayor and 2020 Democratic presidential candidate Pete Buttigieg, where she served as a policy associate and provided research and editorial assistance for his book Shortest Way Home. She has also worked as a civic engagement program coordinator at the Institute of Politics at the University of Chicago.
Jenny was named a 2019 Rhodes Scholar, a recognition for which she is "profoundly honored and humbled." With her Rhodes Scholarship, Jenny will pursue graduate studies at the University of Oxford.
Related stories:
Recent IU alumna named Rhodes Scholar
Indiana Daily Student, November 28, 2018
Top of page