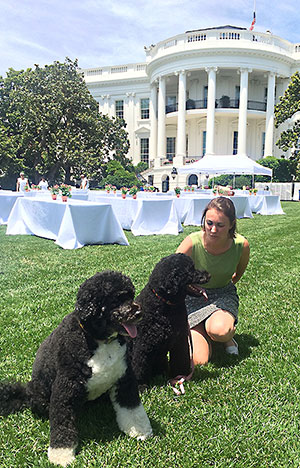 Courtesy photo
Morgan Mohr's interest in "the politicized dimensions of feminism" has led her to testify before Indiana lawmakers, intern at the White House, and even assist in the creation of a political party!
The Wells Scholar from Kokomo, Indiana, is pursuing a triple major in political science, history, and feminist policy. She created her IMP major by combining courses from anthropology, sociology, English, and gender studies, and describes it as an opportunity to "study policy through a gendered lens." For her IMP final project, she's writing an essay on state laws governing forcible and voluntary sterilization.
Morgan is already translating her studies into action in the realm of public policy. While studying in England in fall 2015 she helped draft the policy document of the newly-founded Women's Equality Party. The WE Party is a non-partisan group dedicated to equal representation, pay, and educational opportunity for women. WE also promotes equal parenting and caregiving responsibilities and an end to violence against women.
In summer 2016, as a White House Intern in the Office of the First Lady, Morgan helped advance initiatives such as Let Girls Learn, which helps girls around the world stay in school. "The highlight of my summer internship was probably getting to witness the power of Mrs. Obama firsthand," Morgan says. "It was a joy to see the First Lady's impact on the regular people she strives so often to meet."
Following her White House internship, Morgan continued her involvement in politics as an intern for Hillary Clinton's presidential campaign. On campus, she has served as the director of activism for IU's Feminist Student Association, director of the pro-choice group Generation Action IU, and lead campus organizer for Freedom Indiana, a grassroots campaign to promote civil rights for LGBT Hoosiers. She also testified before an Indiana Senate committee in favor of easing residency requirements to eliminate unnecessary burdens on student voters.
When she's not busy with political action, Morgan can often be found underground. She's an avid caver and member of the IU Caving Club. In 2014 she was appointed to the Indiana Speleological Survey, an exploration and mapping organization working to discover connections between the numerous caves in southern Indiana.
For her academic excellence and commitment to others, Morgan was named a 2017 Rhodes Scholar. She is one of 32 U.S. college students, and the only student from a Big Ten university, to receive this prestigious award in 2017. She will use the scholarship to study comparative social policy at Oxford University in England.
Related stories:
IU Bloomington student Morgan Mohr named Rhodes Scholar
News release, November 21, 2016
Top of page