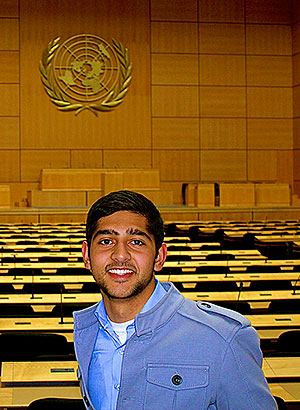 Courtesy photo
To complement his coursework in biology, economics, and health policy, Mohsin Mukhtar sought out internship and study-abroad opportunities. He studied comparative U.S. and European healthcare economics in Spain and interned with a biotechnology and pharmaceuticals equity research team on Wall Street. He's pictured here in the main conference hall of the United Nations in Geneva, Switzerland, where he researched innovation and access to medicines in developing countries with the United Nations Conference on Trade and Development.
Mohsin also was a founder of the Indiana University chapter of GlobeMed, a student-run nonprofit that partners with grassroots NGOs on four continents to facilitate discussion of global health topics. His IMP final project was a thesis about the effects of patent law on pharmaceutical innovation and access to medicines.
After graduating from IU in 2013, Mohsin went to work as an analyst for a New York investment banking firm specializing in the healthcare industry. He says, "I hope to leverage my experience on Wall Street and, thereafter, studies in medical school to emerge as a physician leader working at the vanguard of healthcare innovation."
Top of page