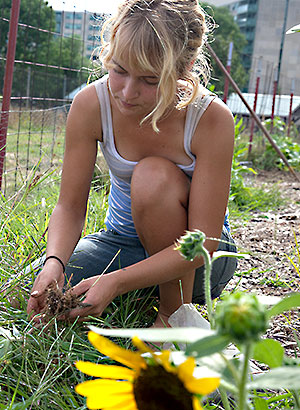 Courtesy photo
"My IMP in Sustainable Food Security has led me to look closely at community gardens and urban agriculture as means of increasing community involvement in ensuring food security," says Sara Swan. In 2012 Sara completed an internship as garden coordinator of the IU Campus Garden through the Office of Sustainability.
"The internship gave me the opportunity to lead a university-wide program directly related to my major," says Sara. "As Garden Coordinator, I oversaw and planned garden workdays, led monthly meetings with the Edible Campus Steering Committee, reached out to key stakeholders, coordinated initiatives with the Office of Sustainability, coordinated with RPS and Sodexo for harvests and pick-ups of produce, and worked with various student groups on events centered around the garden."
Sara also volunteered with Mother Hubbard's Cupboard and helped to revive the campus chapter of Slow Food Bloomington. As a teaching intern for her faculty sponsor, she organized a unit on food security and supervised the students' service learning work. Sara also studied abroad in France, where she farmed with the WWOOF (World Wide Opportunities on Organic Farms) and published a zine about her experience.
For her final project, Sara worked with high school students in Indianapolis to revive a neglected school garden. Besides the actual work of gardening, this project involved working with school administration, soliciting funding and support from local businesses, and teaching students the farming skills to maintain the garden into the future.
Top of page